Monday, March 19, 2012
We've already posted this, but seriously, if you have time, please listen to this episode of This American Life.
All across the country right now, local and state governments are finding they can't pay their bills. Schools are losing teachers, street lights are going dark, garbage is piling up in public parks, and cops are suddenly an optional expense.
Is this really the country we want? The fact that the American public is being convinced that this is okay is frightening.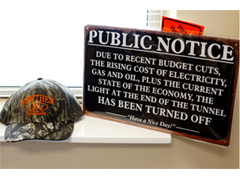 Notes
mdtepsic likes this
pleasestartgivingashit posted this